A large wardrobe is a huge investment.  Quality clothing tailored from natural fabrics with great fits and drape don't come without a high price tag. Investing in such a wardrobe is the first step. Generally, quality wardrobes are built over years. Selecting class cuts and styles in the best quality available is the guiding principle for growing a large wardrobe. Taking care of these pieces is the next step.  Just as with any substantial investment, it's so important to take care of items properly.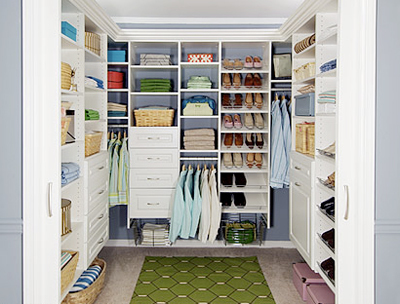 Most outwear garments, including jackets and sweaters only need to be hung out prior to storing. Provided there are no stains or loose threads, place garments on wide wood hangers and hang outdoors for several hours.  Never use wire hangers for any garments. The pieces can then be returned to the closet.  Sweaters are best laid flat on shelving or in drawers.  Too many folds will wrinkle and pull fibers in finely woven sweaters.
The two most damaging processes for fabrics are the chemicals in the dry cleaning process and the harsh heat of dryers.  Avoid taking clothing to the dry cleaner after just one wear. The chemicals will quickly break down fibers. Also know that chemicals from dry cleaners damage the ground water if not disposed of properly.  The high dry heat in traditional dryers is very damaging to garments.  The high heat stretches fabric out of shape. Never put sweaters in the dryer.  These should be hand washed and laid flat on a screen drying rack to avoid molding the knits to a hanger or line.
Always tend to any spots or mending necessary before storing clothing pieces.  When storing clothes that have been dry cleaned, never leave them in the plastic sheeting.  This will cause natural fibers to yellow.  Natural fibers need to breath and the plastic sheeting prevents this.