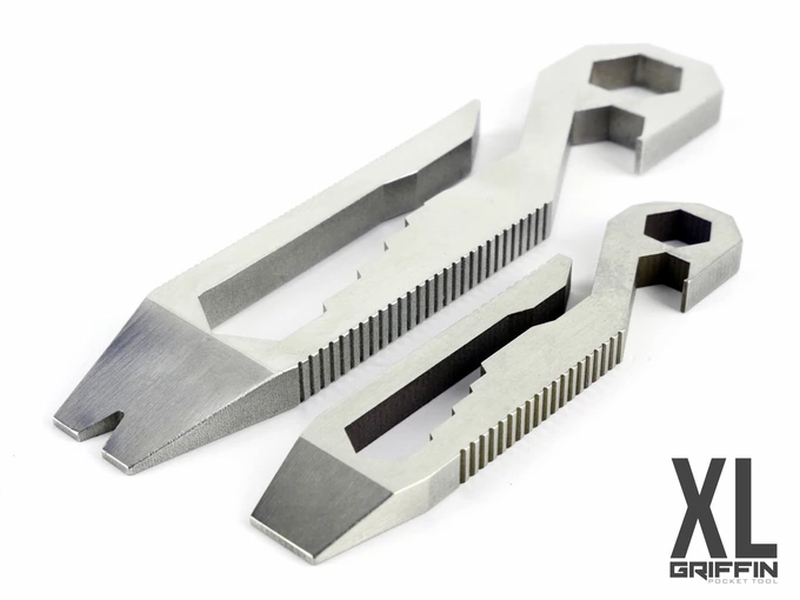 We love DIY tools, even if the most complicated projects we put together rarely go beyond putting up a shelf. Multitools like Swiss knives, the Griffin Pocket Tool, and the Quickey really appeal to us, and so when we found out the the Griffin Pocket Tool XL is now on Kickstarter, we knew we had to check it out.
The new Griffin Pocket Tool XL is 50 percent bigger than the original, with over 15 functions. New features include a nail prying tool inset in the chisel, rulers on both sides of the tool in inch and millimeter increments, a bit retainer (handy if you've got a multi-bit screwdriver too) and the choice of US or metric sized hex wrenches.
The rest of the features we liked about the original Griffin are of course all still there – a scoring tool to quickly open boxes, bottle opener, drillbit driver, pocket clip, prying tool, and wrenches. All in a single, solid piece of stainless steel. It's a little more expensive than the first Griffin – you could get one of those for $15 (roughly Rs. 1,000), while the XL will set you back by $20 (approximately Rs. 1,300).
This Kickstarter project has already crossed its $4,000 goal (approximately Rs. 2.6 lakh). If you want one, you'll have to spend $25 (approximately Rs. 1,600) (though the first 200 backers can get one for $20 or around Rs. 1,300) and delivery is expected in December 2015, with worldwide shipping.
About Kickstarter of the week
In this weekly column, we look at crowdfunding sites like Indiegogo and Kickstarter, to try and find the coolest new projects from the world of crowdfunding. Not everything we find here is going to be the next Oculus Rift or Pebble Smartwatch, and of course, with any crowdfunded project there's the risk that it won't actually ship, even after being funded.
Still, if you can afford to set a little money aside, some of these projects can be really cool, and worth backing.
For example, there's the Atmotube, a wearable air quality monitor; the Ion Belt a smartphone powerpack in your belt; and Blocks, a modular smartwatch.
To see more from the world of crowdfunding, check out our previous Kickstarter of the Week stories.