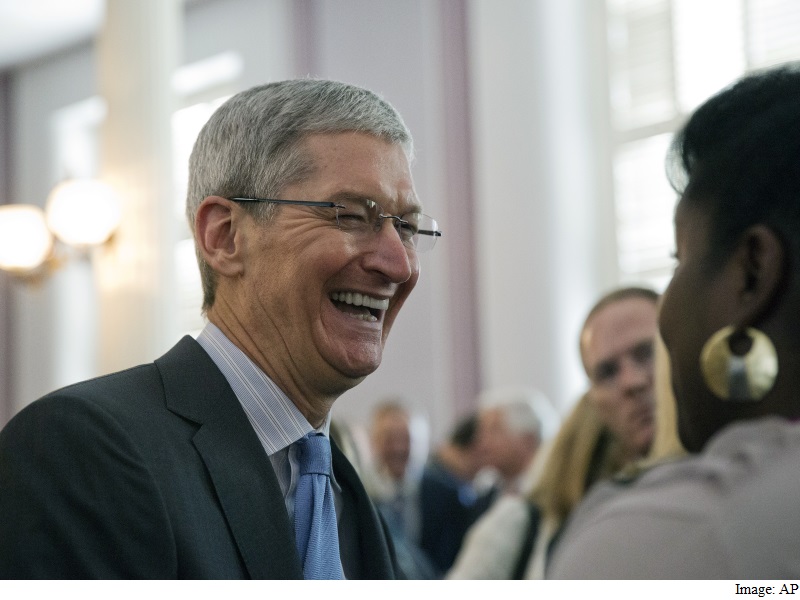 A cheer rose through the Georgetown Apple store here at around 8:10 Friday morning when the first customer finished purchasing the latest iPhone a rose gold iPhone 6s.
But that was nothing compared to the thunder that roared out when the more than 100 iPhone fans lined up outside spotted Apple chief executive Tim Cook heading to the store nearly an hour later.
"Focus! Focus! Focus!" one store employee shouted as a crowd of workers and customers swarmed Cook inside the store, eager for selfies.
Cook laughed as one customer took a picture of him with what appeared to be a Samsung Android. "Are you upgrading to an iPhone?," he asked. The answer was yes.
This is a big day for Apple: Analysts expect the company to sell millions of the new iPhone 6s and 6s Plus devices over the weekend. It will also be a big test of a new Apple program to allow customers lease their phones and upgrade when new models are available.
Christopher Rios, a 25-year-old American University law student said he was replacing his current Android phone with a with a 128GB iPhone 6s Plus.
"I study corporate law so it's an honor. . . . I've studied everything about him," Rios said about Cook, and even compared him to another recent Washington guest. "I got to be next to the Pope earlier this week by accident, so this was just icing on top of the cake," he said. Rios said he couldn't quite decide which meeting was more exciting. "I try not to mix business and religion, both are great."
Brian and Amy Ruddell stopped in the middle of picking out their new iPhones to get pictures with Cook. The pair, who consider themselves Apple devotees, said they drove up from Lusby, Md., at 5:15 a.m. Friday morning and were turning the iPhone launch into a D.C. day trip.
"It was incredible – I was not expecting this at all, I thought they were lying when they said he was here," said Amy.
The Ruddells, Rios, and many other customers inside the store made appointments to pick up their new iPhones – a new option for this launch that let customers lock down a time to get the devices rather than risk a store running out while they waited in line.
But Rios said he still had to wait just not at the store. "I woke up at 3 a.m. to make the appointment and it took two hours," he said. Outside, the line to get into the door still snaked down down half the street, by the time Cook left out the back entrance after about an hour.
Cook took over Apple's top spot in 2011. In the years since, he turned into one of the most visible corporate leaders in the world, taking policy stances on issues like renewable energy and privacy – as well as become an icon to some gay Americans after publicly discussing his life as a gay man last year.
Apple executives are known for making surprise visits to the company's retail stores, especially on product launch days. And this was actually Cook's second visit to the Georgetown store – according to employees; he also stopped in last December.
© 2015 The Washington Post
Apple iPhone 6s Plus
Resolution
1080×1920 pixels
Battery capacity